Stay Slim in Isolation Broccoli Cauliflower Soup (Broccoli Cauliflower Soup)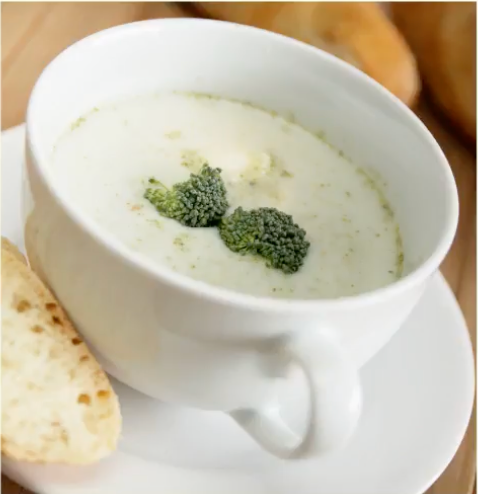 Stay Slim in Isolation Broccoli Cauliflower Soup (Broccoli Cauliflower Soup)
Ingredients:
1 tbsp butter (or butter substitute)
3 cloves of garlic, minced
1 yellow onion, chopped
2 large carrots, cut into matchsticks
3 tbsp flour of choice (can use gluten free)
4tsp Waltzing Kangaroo Chicken Flavor Bouillon Seasoning
½ cup milk (or non-sweetened milk substitute)
3 cups cauliflower florets, very finely chopped (1 small head of cauliflower)
3-4 cups broccoli florets, very finely chopped (1 medium head of broccoli)
¾ tsp salt
Black pepper, to taste
½ tsp garlic powder
⅛ tsp cayenne pepper
2 cups shredded cheddar cheese
Directions:
In a large pot, add butter and place over medium high heat. Once butter is melted, add in garlic, onion, and carrot. Sauté for 5 minutes or until veggies are tender. Stir in the flour to coat the veggies, then add 4 cups water and 4tsp Bouillon Seasoning, stir to combine. Then add milk, cauliflower, broccoli, salt, pepper, garlic powder and cayenne pepper. Bring to a simmer and cook for 10-15 minutes, until broccoli and cauliflower are tender. Stir in cheese and reduce heat to low, stirring to melt cheese. CAREFULLY, blend with a stick blender (or in a blender allowing heat to gently escape). Once blended to your desired consistency, return to pot, reheat if necessary and add salt and pepper to taste. Serve immediately. Can be topped with additional cheese. 
Cooks tip: If soup is too thick, add a water/bouillon mixture. The proportions should be 1 cup water to 1 tsp bouillon.
Adapted from Ambitious Kitchen "Lighten Up Cheddar Cauliflower Broccoli Soup"