The Other Use for Wine (Vegetable Risotto)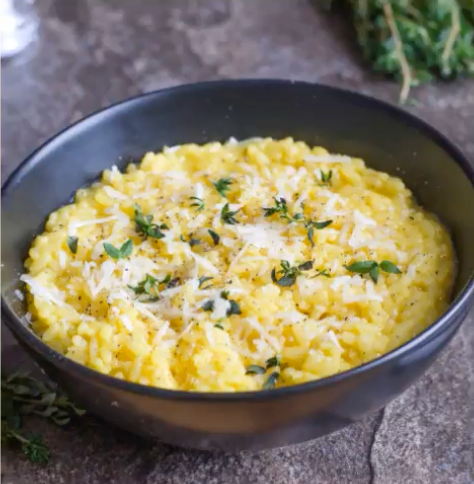 Vegetable Risotto
Ingredients:
4 cups water
4 teaspoons or 1 tablespoon + 1 teaspoon Waltzing Kangaroo chicken bouillon
2 tablespoons extra virgin olive oil
1 medium onion, minced
1 celery stalk, minced
1 medium carrot, peeled and minced
2 tablespoons ginger, peeled and minced
¼ teaspoon crushed red pepper flakes
1 cup Arborio rice
Salt and pepper to taste
½ cup white wine
½ cup fresh or frozen and thawed green peas
2 tablespoons butter
2 – 3 tablespoons Parmesan cheese, freshly grated
3 green onions, thinly sliced (optional)


Directions:
In a large pot, bring water to a simmer, add bouillon, mix well. Set aside.
In a large saucepan, heat oil. Add onion, celery and carrot and cook over high heat until the onion are soft, 3 – 4 minutes. Add ginger and pepper flakes and cook until fragrant. Add rice, stirring well until fully coated with oil, 1 – 2 minutes. Add salt, pepper and white wine. Stir while the wine bubbles away.
Lower heat to medium or medium high. Add bouillon ½ cup at a time to the pan, stirring after each addition while liquid evaporates. Maintaining medium to medium high heat, stir frequently while adding ½ cup bouillon at a time, stirring after each addition. After 15 minutes, taste the rice. It should be tender but with a slight bit of crunch. Cook rice 10 minutes more for a total of 25 minutes.  When rice is completely cooked, add the peas and cook for 1 minute more. Remove risotto from heat. Gently stir in butter and Parmesan cheese. Top risotto with sliced green onions (optional) and serve.